There are five constants on the Outer Banks - Sand, Water, Wind, Birds and Fishermen. Cape Point at Hatteras is a mecca for surf fishermen with their trusty 4WD vehicles, bedecked with poles and coolers. Cape Lookout's relative isolation makes it more difficult for surf fishing devotees to come en masse, but still they come. Park Service approved private vehicle ferries are available to transport trucks and campers onto the Core Banks.

Cape Hatteras in particular can provide a spectacular backdrop for fishermen as the waves at Cape Point crash and surge against each other.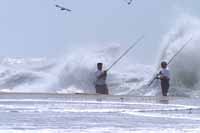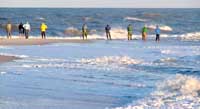 Above - Fishermen at Cape Point, Hatteras are surrounded by surf and a golden sunset.
Below - The point at Cape Lookout attracts the faithful.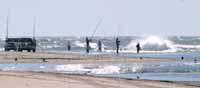 This broiling battle comes from the fact that Cape Point is where the cold southbound Labrador Current meets head on with the warm northbound current of the Gulf Stream. Add a stiff breeze off the ocean and the salt spray will fly.

All along the beaches of both the Cape Hatteras and Cape Lookout National Seashores, surf fishing is extremely popular. Both day and night you will find a steady stream of fishermen in 4WD's at beach access ramps. Each in turn makes their way onto the beach to pick a desirable spot to settle down and cast into the crashing surf. The hardier souls camp at the many Park Service camping areas and simply walk a few feet over the dunes to reach the surf for a day of meditating with the sun and waves. Whole families come to fish while the kids play in the sand, chase gulls and build sand castles.

Pier fishing, both ocean and sound, is another popular option that brings many to places like Nags Head, Kill Devil Hills, Rodanthe, Avon and Frisco. Crab and Flounder are two favorites to be found in the sounds. BYOB (that's Bring Your Own Boat, of course) and join thousands who find their own paradise fishing and boating in the vast sound waters of North Carolina's coast.


Surfers spend a day of fun at
Cape Lookout.
The lure of the Outer Banks' peaceful, uncluttered setting is an attraction for many other sports enthusiasts besides fishermen. More and more surfers are finding this coast a convenient spot to enjoy their own brand of fishing, casting about for that great wave. Surfers used to the crowded conditions of such areas as Myrtle Beach will find the Outer Banks a refreshing change. Miles of open beaches, often with not a soul in sight, offer far greater freedom to enjoy their favorite sport. (More surfing photos are available here.)


Canoeing and kayaking are enjoyed by the casual paddler and the serious enthusiast alike. Both the mainland side of the sound, as well as the barrier island side, offer a vast array of interesting tours by paddle. There are plenty of places to "put in" all along the sound side of the Outer Banks.


The wind and shallow water of Pamlico Sound make it an ideal place for sailboarding, or windsurfing, and parasurfing. These sports are enjoyed all along the sound. An especially popular haunt is the sound south of Avon, where the island is very narrow, immediately north of Buxton. Other popular places to "put in" are at the "day use area" just south of Salvo, about 100 yards north of mile marker 41, where there is also a Civil War monument and graveyard, and at the nature trail access and parking area on the southwest corner of Jockey's Ridge State Park.



These are only some of the many and varied sporting and recreational activities enjoyed along North Carolina's Outer Banks. Fall and winter offer sport hunting for ducks and geese in the National Seashore. All along the inland coast ther are wildlife refuges and both public and private preserves that provide hunting opportunities as well.