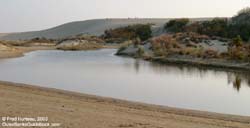 (The scale of this photo is not obvious
until you realize the specks on the ridge are people, better seen in this close-up.)

You can't miss Jockey's Ridge if you get near Nag's Head unless it's pitch dark. It begins just inland from the beach on the east side, and tumbles into the sound on the west side. The highway (NC 12) goes around it by necessity, and barely has room to do that.

What a strange sight this is, an ancient mountain of sand in a place where everything around it exists just a foot or two above mean sea level. This tremendous dune, or actually a series of dunes, seems to defy explanation or reason. Where did it come from? How did it get here? Caught between the ocean and the sound, there seems to be nowhere for it to go, and nowhere it could have come from. Why is it here?


| | |
| --- | --- |
| | |
| North is at the top in this aerial composite of Jockey's Ridge assembled from NOAA photos taken right after Hurricane Isabel. | |
Jockey's Ridge is certainly not the only large dune on the Outer Banks. There are others, mostly between Nag's Head and Carova, with Kill Devil Hills being another well known site for large dunes or "hills" as they were called in the early days. Old maps and charts list places like Whales Head Hill, Poyner's Hill, Paul Samiel's Hill, Wreck Hill and many more. But these places were not really hills, just a fanciful use of the term "hill" applied to larger-than-average sand dunes. Still, on the flat, often treeless and desolate landscape that characterized much of the Outer Banks just a hundred years ago, these "hills" were distinctive landmarks where nothing else could serve as such.

Jockey's Ridge was most likely the largest of these "hills", even two and three hundred years ago, and is today the largest sand dune on the east coast. In fact, it is large enough to be visible from space, and astronauts have taken photos of it, as in the example at right from NASA. But it is in a constant state of flux, changing shape and size with every breeze, and with every storm. Yet, in a chaotic way, it remains essentially the same, and has done so for at least several hundred years. Universities, and scientists, and scholars have studied it, and student theses have been written about it. Core samples have been taken to determine how long it has been here, and to find out what might be under it. And if you could interpret all their mumbo-jumbo techno-jargon, you would find out that essentially what they know is this - it's been here a long time and it's made of sand. The rest is a lot of unanswered questions and speculation.


| | |
| --- | --- |
| | |
| Sunset over Roanoke Sound viewed from Jockey's Ridge. | |
The wonderful thing about Jockey's Ridge is that we don't have to worry about all that. Leave the why's and wherefore's to the scholars All we need do is marvel at it, and enjoy the view.


This place is especially for children and lovers. The kids are wild about this gigantic sandbox. They can run and play, and really have a ball, and maybe wear themselves out (so they'll sleep in the car, or take a nap when you get back to your vacation lodging). Bring a large piece of an old cardboard box and they can use it for a sled.
Or they can play super hero, jumping down the sides in the steeper places. They won't actually go very far, but it will feel that way to them. They'll never forget the experience. But it's the view and the sunsets that attract the lovers, and the young at heart too. The park is open until at least sunset, and it's a great way to end a day of sightseeing.




3 photos above: Both the kids and the young at heart enjoy Jockey's Ridge.

Left: This old tree from 1973 was gone in 2003. The tiny specks atop the dune in the background are people.
In this wide angle view at right, looking south from Jockey's Ridge, the upper left of the photo shows the ocean and the upper right shows the sound. In the original full-sized image the bridge between Roanoke Island and Nag's Head is visible, as is Roanoke Island. But the necessity of reducing the size of the wide angle image above to make it practical for the web looses those fainter details, even though it is still quite a large image.


Just as Roanoke Island is visible from the dune, Jockey's Ridge is equally visible, if not more so, from the island, particularly if you view it from the Fort Raleigh site. The photo at left was taken in 2004 on an overcast hazy day, and the dune was still easily seen from the "Lost Colony" amphitheater. Comparing this photo with one at right taken from the same area thirty one years earlier in 1973 shows how the dune is presently flattened out on top. In 1973 there was more of a peak on the north end (left side of the photo).


The Park Service has nature trails through the trees and thickets around the dunes for the nature enthusiasts and bird watchers. Hang gliding is a big draw here as well, with a concession next to the park office where lessons are offered right there on the dunes. A kite could entertain a kid for hours on these great sand dunes, given the constant wind here. It's no wonder this has been a popular place to visit long before any bridge connected the barrier islands to Roanoke Island or the mainland. You simply have to come and see it for yourself.