Birds of the Outer Banks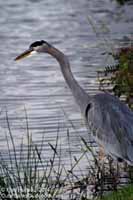 Great Blue Heron, near Whalehead Club, Corolla


The coastal region of North Carolina is a birding hot spot. It consistently provides some of the highest species counts in the world. No less than ten national wildlife refuges, two national seashore parks and many nature reserves provide at least a quarter million acres of protected habitat (see listing here). This rich environment makes North Carolina's coastal lands and the Outer Banks a magnet for hundreds of bird species. It also attracts many thousands of people who watch and photograph them.

Brown Pelicans,
Silver Lake, Ocracoke


Great flocks of Snow Geese, Tundra Swans, Canada Geese and many species of ducks draw birders from around the world. Egrets, cranes and shorebirds of every description abound. Osprey nest here, and Brown Pelicans cruise the surf with their spectacular dives for fish. Terns give them great competition with their diving acrobatics as well.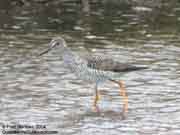 Greater Yellowlegs, near Currituck Beach Lighthouse, Corolla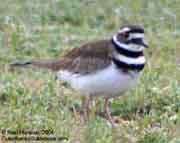 Killdeer at dusk,Bodie Island Lighthouse grounds

The grasses and thickets provide habitat for all manner of small birds. The proximity to fresh and salt waters draws a great variety and abundance of species, both year-round and transient, that makes birding here a thoroughly satisfying experience.


Yellow-rumped Warbler at sunrise, near Currituck Beach Lighthouse, Corolla
Eastern Willet, near Avon,
Hatteras Island

Favorite spots for bird watching include the pond in front of Bodie Island Lighthouse and two ponds on Pea Island at the visitor center. These are easy to reach and attract many of the more casual birders, as well as the serious. There are several places along Pea Island with boardwalks, viewing stands, and even a blind just north of the visitor center. Another popular spot is behind the Bodie Island Lighthouse. Park at the lighthouse parking lot, and walk to the west side of the loop drive. From there a dirt road leads toward the sound side. It is likely there will already be others there who are regulars to this spot.


Brown Pelican,
Harkers island
Canada Goose, near
Whalehead Club, Corolla
Double-crested Cormorant, south horse fence, Corolla

There is an annual "Wings Over Water" wildlife festival on the Outer Banks each fall. Beginning in 2005 there will be one in the spring as well. This festival attracts a great number of people, with events planned all along the Outer Banks to coincide with the festival period. Many bird watchers and nature photographers are attracted to the events surrounding this festival


| | | | |
| --- | --- | --- | --- |
| | | | |
| Yellow-shafted Flicker at the author's rental unit in Kill Devil Hills. | Osprey with fish catch on an overcast day, near Whalehead Club, Corolla | Snowy Egret foraging a large fresh water puddle in the road, Carova | Brown Pelican, near sunset at a marina, Harkers Island |

The big excitement comes in the winter with the migration of waterfowl. Many thousands of birds, including Tundra Swans, Snow Geese and other popular species crowd the airways and waterways all along the coast. Pea Island, Lake Mattamuskeet and many other reserves and preserves are filled with these flocks of ducks, geese and swans. Almost anywhere you look you will find flocks gathered. It is a time when the serious bird watcher makes his or her yearly migration to these wonderful Outer Banks to see them.


Gull with crab catch, North Pond, Pea Island NWR
Great Egret, Salter Path,
Bogue Banks
White Ibis and Snowy Egret, North Pond, Pea Island NWR

Hundreds more photos of North Carolina's birds can be found at Fred Hurteau's NCBirds.com web site, including many of his photographs of the Birds of the Outer Banks. You can also see them in our next section - Gallery of Outer Banks Birds >