Minnesott Beach - Cherry Branch Free Ferry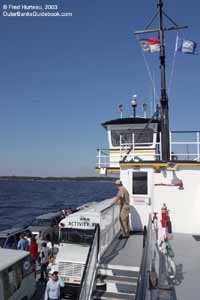 The Minnesott Beach - Cherry Branch ferry crosses the Neuse River near the Cherry Point Marine Corp Air Station. You can find its location on the Coastal Guide Map. The free crossing takes about 20 minutes, and like the others, went by all too quickly.

On this trip the "Floyd J. Lupton" made the run, with the "Kinnikeet" on duty going the opposite way. This crossing brought two school activity buses loaded with kids on a field trip, which made for an interesting time. Can you imagine chaperoning such a trip? With only 20 minutes for the crossing, there was a mad rush to get off the busses.
Both busses unloaded, and kids were running everywhere. The crew kept an eye on them, having dealt with this sort of thing many times. The students gleefully swarmed any vehicle carrying pets with their heads out the window so they could be petted. The kids happily obliged. It was even more frantic trying to get the kids loaded again to leave the ferry when it reached Cherry Branch.

Here are several additional photos of the "Floyd J. Lupton" and the "Kinnikeet" at Minnesott Beach - Cherry Branch.







Left - top row: Two photos of the "Kinnikeet".

Right: The pilot house of the "Floyd J. Lupton".

Left - center row: The cargo deck of the "Floyd J. Lupton" from the lounge deck. and the "Floyd J. Lupton" docking at Minnesott Beach.

Left: The "Floyd J. Lupton" lounge deck and pilot house from the cargo deck.

At Cherry Branch you're on Hwy. NC 306 once again, heading south. It soon ends at NC 101. Here you take NC 101 east to Beaufort, where it intersects with US 70. Then you take US 70 east until it connects with the southern-most end of Hwy. NC 12, the "Outer Banks" highway. NC 12 takes you through Cedar Island National Wildlife Refuge to the village of Cedar Island, and to the ferry dock. Here you board the next ferry, the Cedar Island - Ocracoke toll ferry.