Wild Horses of Corolla

In the past these wild Spanish mustangs have roamed freely around Corolla and much of Currituck Banks north of Southern Shores. Before N.C. Hwy. 12 was extended from Duck north to Corolla, this village and its lighthouse were more remote than the northernmost reaches of Currituck Banks around Carova are today. Like Carova and the other northern beach communities of today, Corolla was then reached only by boat or by driving up the beach for many miles. But now there are paved roads and thousands of homes on Currituck Banks north of Southern Shores, up to Corolla. It was this explosion of population and traffic which eventually forced the wild horses north, for their own safety, into a protected area away from highways and speeding cars.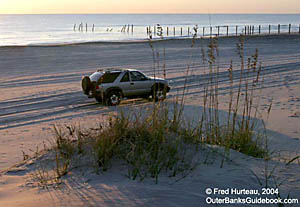 Sunrise illuminates the fence stretching
into the ocean at Corolla .

Just north of Corolla, where Hwy. 12 ends in a 4WD ramp onto the beach, there is a fence stretching from the ocean to the sound. Its purpose is to keep the wild mustangs from wandering south onto the roads where they, like wayward deer, could be hit by cars. North of this fence only 4WD vehicles can make it up the beach past wildlife reserves to reach the communities of homes that have spread northward to the Virginia state line. It is here, around Penny's Hill, and North Swan Beach, and Carova that these wild horses continue to run free. The herd of a about 100 horses is now being managed, and may possibly expand by another 20%-30% in the future.




These horses may be seen roaming freely along the dirt roads, on the beach, or in people's yards. It's easy to drive right past them foraging in the trees and not even notice them.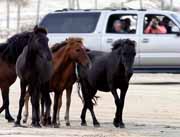 It is not so difficult to see the wild Spanish mustangs for yourself if you have a 4WD vehicle and know where to look. Of course, not everyone comes to the Outer Banks with their own 4WD. But all is not lost. The other option is to reserve a seat with a guided tour service, such as Wild Horse Adventure Tours. They know where to find the wild horses and have the means to get you there. All you have to do is bring your camera.


If you strike out in your own 4WD, and know where to look, there is a very good chance you will see at least one group of 3 to 5 horses. The farther north you go, the more opportunity you''ll have to see some on the beach, or grazing on the dunes in view of the beach. If you don't see them on the beach, you will need to go exploring on the back roads. These roads are strictly dirt and sand. Although many sections of these roads are well packed dirt, they frequently change to deep sand and great muddy puddles.





There are no ditches here, so large, very large, puddles abound. Judicious caution should be used when traveling these roads. Usually there is a sandy path around the worst of the puddles, worn to one side of the road or the other to bypass the water. Depending upon how much rain has fallen in recent days, the puddles may be quite easily driven through, but they might also be deep enough to drown out the engine. It's wise to err on the side of caution.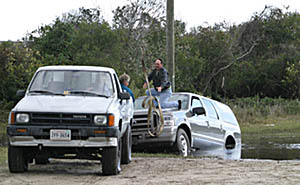 The driver of the big SUV in this photo was not so prudent and quickly succumbed to the hidden danger of the large puddles you can find on the sand and dirt roads around Carova. One puddle can be six inches deep, and the very next one can be two or three feet deep. You cannot tell by just looking. If you see someone else drive through safely, you could chance following their path, but only if you have a real 4WD off-road vehicle. Otherwise, the best advice is "don't try it."


Tips on finding the wild mustangs, and what to expect going up the beach to Carova are next. Then there is the "Wild Horse Gallery", with many great photos.