Ocracoke's history and folklore is one of the most colorful on the Outer Banks, and extends far beyond historic Howard Street. There is a great deal of good historical information on the Ocracoke Preservation Society web site, including old maps, old photos, and stories and tales of and by the residents of Ocracoke. Another great source of old stories, folklore, and even current community activities is the Village Craftsmen web sight and newsletter by Philip Howard.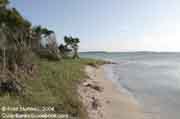 Springer's Point looking east.
Springer's Point looking west.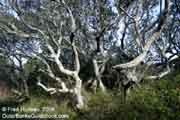 Live Oaks in the sunshine at Springer's Point.


Springer's Point

Among these tales are some spooky stories of strange occurrences, including one of how Blackbeard still hunts for his head at Springer's Point, adjacent to "Teach's Hole", where he was killed and beheaded in 1718. This story and more is revealed in an article titled "The Ghost's of Springer's Point", by Philip Howard, in one of his monthly Ocracoke Newsletters. Now you can visit the site of this tale of a headless Blackbeard's ghost, if you dare.


Historic Springer's Point is the location of an old maritime forest, and is being preserved by the N.C. Coastal Land Trust. The NOAA aerial photo at right shows Springer's Point and Teach's Hole in relation to the Ocracoke Lighthouse and Silver Lake. It is just a short 10-minute hike from the "Springer's Point Nature Preserve" sign on Lighthouse Road. Be advised this is strictly a walking and/or biking trip, as there is no parking for a car anywhere near. Just leave your car at your motel. If you are a day-tripper, use the parking lot between the ferry station and the Ocracoke Preservation Society Museum. If you need directions to Springer's Point from there, the volunteers at the Preservation Society will be glad to assist.


Teach's Hole viewed from Springer's Point.

To reach the site from the main road in the village, take Lighthouse Road toward Ocracoke Lighthouse. Continue just past the lighthouse and the road will make a sharp left curve. Continue on around the curve for a few houses until you see the Springer's Point sign on the right side of the road. From the sign, walk southward between two houses until you reach a roped off dirt road leading left (east). Cross the rope and follow the dirt road. Though grown up in grass and weeds, the road is rutted as if occasionally driven on and is easy to follow. Mosquito protection is highly recommended April through November.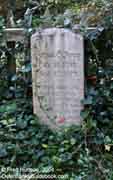 Tombstone of Samuel Jones
Shaded path leading to the cemetery and cistern.

Just before reaching the end of the road, which opens up onto the water's edge with a panoramic view of Teach's Hole, there is a path to the right leading into the shaded canopy of live oaks. As soon as you enter this tunnel of tree bows you sense there is something special about this place. In this shaded quietude there is an unmistakable feeling that the present is giving way to the past as you wind along this path, surrounded by live oaks and ivy. Before long you reach a small graveyard, surrounded by a fence nearly hidden among the deep green of ivy. A single headstone, looking like it was set only recently, stands in one corner of the fenced ground.

| | |
| --- | --- |
| | |
| Old cistern cover near the cemetery. | The small ivy-covered graveyard and picket fence. |

Across the path from the fence is a large round wooden object on the ground. This is a cover over an old brick cistern base. It looks rather odd and mysterious in this setting, not ten feet from a family graveyard. It would take very little imagination to make it the centerpiece of some ghost story, unintentionally fabricated on the spot, while trying very hard to keep a clear and logical state of mind. In fact, the atmosphere of this unusual place could easily give a clear-headed, sober, and thoroughly realistic person pause to doubt the logic of being here alone. Even on a perfectly beautiful, sunny October afternoon it could seem a little foolish to be here with only a camera for company.

| | |
| --- | --- |
| | |
| The atmosphere of the live oaks. | Wooden steps in an old cedar tree. |

Another oddity was discovered, just a few short steps up the path on the way out, that was not noticed on the way in. Someone had nailed 2x4 steps up the trunk of a large old cedar tree next to the path. What dubious purpose this would serve hovering over the path near the graveyard was quickly left to ponder for another time, even though there was more here to be explored.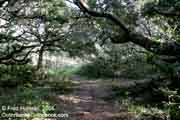 The way out.

Perhaps you could see for yourself this place where ghosts supposedly hang about. Bring a camera, and a friend, preferably someone you trust, and see what you can find. If you are the outdoor type, and like to hike and explore, there's no telling what you might find among these ancient live oak trees. Of course, if you haven't yet read "The Ghost's of Springer's Point", you might want to do that first.