Wild Horses of the Outer Banks

The Outer Banks of North Carolina is one of very few places in America where wild mustangs still roam free, stubbornly surviving in this once remote coastal environment. Descended from spanish mustangs which arrived close to 500 years ago, these hardy, tenacious wild horses have lived here since the earliest explorers and shipwrecks. In previous centuries there were thousands of these wild mustangs roaming the full length of the Outer Banks, from Shackleford Banks, all along Core Banks, Ocracoke, Hatteras, and on northward beyond Corolla on Currituck Banks. With the protected status now afforded to them, they should remain free to live as their ancestors have for centuries. They continue to capture the imagination of many people, especially horse-lovers.


The Wild Shackleford Ponies -

One group of these wild horses roams freely on Shackleford Banks, near Cape Lookout (see Coastal Guide Map). This barrier island serves to isolate them, as it has for hundreds of years. The island and its 100+ wild horses, also called the Shackleford ponies for their small stature, are under the protection of the National Park Service, but visitors may come to watch and photograph these horses. Shackleford Banks is accessed from Beaufort and Harker's Island by Park Service approved private passenger ferries, or by private boat.


The photos at left and above right were grazing near the eastern-most tip of the island. Shackleford is about 9 miles long, and a half mile wide, so hiking around the island to photograph or view these horses is not a major effort for anyone used to such outdoor activity. They can usually be seen on the eastern tip of the island, directly across from the Cape Lookout Lighthouse, as in the upper photo. For more details and lots of photos of the wild horses on Shackleford Banks, visit www.NCWildHorses.com.




The Wild Horses of Rachel Carson Reserve, Beaufort-

The western tip of Shackleford Banks is near Beaufort where another group of horses lives on an island across from the Beaufort downtown waterfront. The island is part of the Rachel Carson Reserve. These horses can often be seen from the Beaufort waterfront boardwalk. Ferry rides will take visitors across to the island to walk about and see the horses there. Group boat tours and private charter tours are available as well. For more details and lots of photos of the wild horses on Rachel Carson Reserve, visit www.NCWildHorses.com.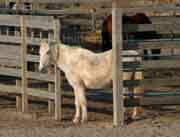 The Ocracoke Ponies -

A far more easily accessed herd is located on the north end of Ocracoke Island, where about twenty "banker ponies", as they are called on Ocracoke, are maintained and watched over by the National Park Service.


This Ocracoke herd is kept within a fenced area covering up to 180 acres, and a corral is located next to Highway 12 south of the Hatteras ferry landing. With parking space for visitors, you can stop and see some of these ponies very easily, assuming some of the "ponies" happen to be near the parking area. The corral is double fenced, with space between, so you will not be able to actually reach or pet these animals. A viewing stand is next to the fence where you can get high over the fence for a better look.



Corolla's Wild Horses -

Wild horses can also be found north of Corolla (see Coastal Guide Map). Here they roam freely, where they can be seen if you have a 4WD to make the trip up the beach to the Carova area near the Virginia border. Visitors without a 4WD vehicle can take advantage of guided tours to see the wild mustangs.