Cape Lookout Lighthouse - continued:
Whether or not you get to climb the lighthouse at Cape Lookout, the scenery is worth the visit. This view of surf fishermen (right photo) is testament to that. But being able to climb the tower and see the views of Shackleford Banks, the "Emerald Coast" and the dazzling vistas around the cape certainly makes a trip to Cape Lookout a special event. Having the tower rehabilitated so that "daily public access" is a reality will definitely serve to draw more visitors here. Hopefully, these pages will help make people aware of what needs to be done at Cape Lookout for that to happen, and why climbing the tower has not been an option in the past. Let us hope that it will not be too long before "daily public access" is a reality for Cape Lookout Lighthouse.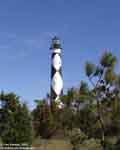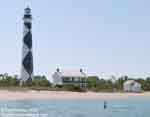 Before we leave Cape Lookout, let's take one last look around with this final collection of photos. The coal shed is now gone from in front of the Keeper's Quarters in this photo from the sound at left. Looking due east at the lighthouse you see the white diamonds on a black background in the photo at right. Below left shows the beacon, which is on 24 hours a day. More scenes around the lighthouse and lighthouse views from around the area are included below.
| | | |
| --- | --- | --- |
| | | We would very much like to hear your comments, thoughts and suggestions about our lighthouse section, and indeed, about anything you would like to comment on or ask about at CarolinaOuterBanks.com. |
Back to Lighthouses Main Page >
Lighthouses of NC's
Outer
Banks