Many thousands of visitors flock to the Outer Banks each year. It's not surprising then that there are many different reasons they come.
Beach-going families converge on the northern areas, from Nags Head northward as far as Corolla, to enjoy the sand and surf of beaches quieter and less crowded than those of South Carolina. Nags Head, Kill Devil Hills, Kitty Hawk, Southern Shores, Duck, Sanderling, Corolla, and the booming developments along the northern "banks" provide a family atmosphere with plenty of spacious rental properties suited to family vacations. Jockey's Ridge State Park at Nags Head and Wright Brothers National Memorial at Kill Devil Hills attract visitors year-round.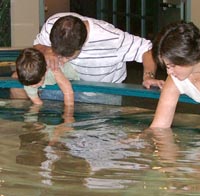 Roanoke Island provides historic, educational and scenic attractions to compliment an Outer Banks trip. These include the Elizabeth II State Historic Site, Fort Raleigh National Historic Site, Elizabethan Gardens, and one of North Carolina's three state aquariums. The Outer Banks Visitors Bureau on Roanoke Island, at the foot of the US-64/264 Bypass "Virginia Dare" Bridge, provides a wealth of Outer Banks information, pamphlets, booklets and maps. A few minutes spent there could prove very fruitful.

Cape Hatteras and Cape Lookout National Seashores take up most of the remaining landscape on the Outer Banks. There is little privately owned land within these park areas south of Nags Head. Private property is confined to eight villages that provide the only commercial flavor to this otherwise wild and undeveloped area.
This protected coastal environment, which includes Pea Island National Wildlife Refuge, brings many who enjoy the fishing, wildlife, bird watching, surfing, camping, kayaking, shell collecting, sailboarding and other activities.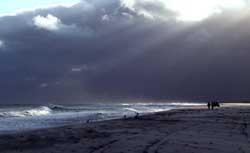 Visitors traveling with the added benefit of their own boat have the greatest freedom to enjoy scenic views and water activities many landlubbers miss out on. Four-wheel drive vehicles also add a great measure of freedom. Much of the national seashore area permits beach access, so exploration by 4WD of the undeveloped scenic beauty of this remote and unique coastal treasure is very popular.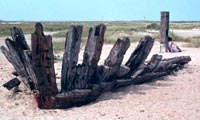 Another facet that brings visitors is the folklore and history of the Outer Banks. Both are so deeply woven into the fabric of this unique place that they are often inseparable. The Wright Brothers' first powered flight, the legend and history of Blackbeard, the Lost Colony, the bravery and service of the Lifesaving Stations, hundreds of shipwrecks, wild horses roaming Shackleford Banks and Carova, and the almost mystical attractions of its lighthouses all add to the mix of compelling reasons why the Outer Banks is a fantastic, fanciful and fun place to see and experience.